VENERDI 24 APRILE
UNDERGROUND ELECTRICK @ CSA La Torre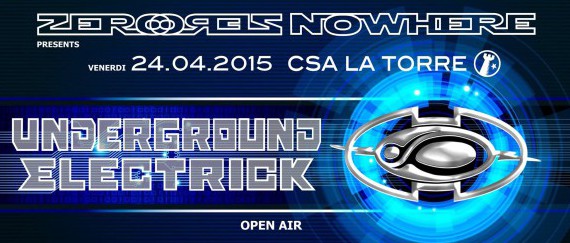 Underground Electrick è un appuntamento mensile organizzato da 00NOWHERE che vuole dare risalto a realtà poco conosciute ed indipendenti della scena musicale elettronica.
OPEN AIR PARTY
LINE UP
h 22:00 Selezioni elettroniche a cura di MICROSUONI
h 00:00 BLAVATSKY (Live) – Visionary Mind Records
h 01:00 ARZ (Live) – The Zone Records
h 02:00 THE ZONE RECORDS – Selected by 00Nowhere
h 03:00 JESTERPHUNK – 00Nowhere
ARZ:
BIO: Interested in music from a very early age, ARZ started to take his first step playing guitar and bass. Inspired by punk rock, he began to compose tracks of various musical genres. His later discovery of Squarepusher and Aphex Twin transported him into the scene of electronic music and production turned to computers.
Interests go among different genres without confines he bridged throughout the sound. In his sets ARZ mix all the music types that he love – Ambient, Electro, Dub and Techno – only to create his personal and sophisticated banger sound!
BLAVATSKY:
Blavatsky's cloud is: anthroposophy, mantra of arpeggios, punk rock synths, DIY attitude, communication between humans and plants, melodic techno and oblique strategies.